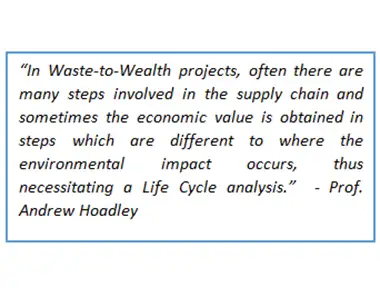 Prof. Sanjay Mahajani (IITB) presented his research on the management of garden waste. He presented his research group's work that considered IIT Bombay campus as a test bed. The pilot study involved conversion of biomass waste into cooking gas, a survey of campus trees, pelletization processes and gasification of the bio-waste in down-draft reactors. Similarly, use of bio-waste such as wood chips and grape marc could be converted to jet fuel, as discussed by Prof. Alan Chaffee (Monash), who is currently investigating catalytic routes and process engineering for generating fuels with a high degree of purity and efficiency. Prof. Amit Arora of CTARA, IITB gave insights into his research on utilization of kitchen and horticultural waste such as fruit peels and vegetable stalks into value added bio-active products such as pectin, polyphenols and lipids which have applications in food, pharmaceuticals and the cosmetic industry
Prof. Arora demonstrated a unique bio-refinery based approach to recover bioactive compounds from kitchen and horticultural waste, which would also address the ever-growing municipal solid waste generation issue. Prof. Victoria Haritos (Monash), spoke on the utilization of kitchen and horticultural waste to obtain sugars and fermentable carbohydrates from lignocellulic biomass using enzymatic processes. These processes release sugars from fruit and vegetable waste that are greener and less capital-intensive than acid catalyzed steam processes, making them economically viable and sustainable. The sessions on gasification of farm waste by Prof. Mahajani, wood chips and grape marc to jet fuels by Prof. Chaffee, value-added chemicals from horticultural waste by Prof. Arora and sugar and fuel derived from kitchen waste by Prof. Haritos gave an exciting picture of the wealth that can be derived from waste, which otherwise causes negative environmental impact and significant cost for disposal.
The next theme focused on utilization of municipal solid waste (MSW), one of the foremost challenges faced by cities and the countryside alike across the world. Mr. Pankaj Patel, head of Abellon Clean Energy Ltd. showcased his model for the city of Ahmedabad in Western India for the management of solid waste. Mr. Patel's facility aims to process a thousand tons of municipal solid waste every dayto generate energy. Along with the technical details and know-how of the functioning of the waste processing and power generation plant, Mr. Patel also discussed issues such as land occupation by waste, ground and surface water pollution, health and environmental hazards and correlated them to social issues such as those of human scavengers and the human development index.
Mr. Irfan Furniturewala, promoter of Hanjer Biotech Energies Pvt. Ltd., a company in the Municipal Solid Waste recycling business for the last 10 years, gave an overview of their activities and technologies that are used to handle about 80 million tons of solid waste across 18 units spread across nine states of India.
Mr. Furniturewala also highlighted anaerobic biomethanation of the wet fraction from mixed municipal solid waste and fuel oil and gas production from mixed multilayered waste plastics. Mr. Rajiv Agarwal of Praj Industries Ltd. showcased the efforts of his organization on utilization of non-food (non-fodder) farm waste to biofuels as well as biogas. Mr. Agarwal drew attention to the ethanol blending program across the world and the current shortfalls to achieve targets. He went on to highlight how utilization of farm waste for production of bi-ethanol can be used to realize targets of gasoline blending which are as high as 20 percent for India by the year 2020. He also discussed efforts on conversion of cellulosic and hemicellulosic biomass into biogas by anaerobic biomethanation. Interestingly, the residue after the biomethanation process can be utilized as a green fertilizer for farms, truly adhering to the "cradle to cradle" approach for the theme of waste to wealth. On the academic side, Prof. Yogendra Shastri (IITB) nudged the discussion to the key issue of mixed nature of nonsegregated municipal waste, composed of organics, plastics, metal, sand and ash. Prof. Shastri presented key findings of his work on thermodynamics and kinetics of pyrolysis reactions and how this understanding is being used to design and optimize pyrolysis reactors for the treatment and utilization of mixed municipal waste. Prof. Shastri further discussed preliminary studies on performing environmental impact assessment of biogas production from the MSW produced in the IIT Bombay campus and their direct and indirect economic, environmental and social benefits.
The concluding session of the symposium was a panel discussion chaired by Prof. Rangan Banerjee, Head of Energy Science and Engineering Department, IIT Bombay. The panelists consisted of academics, from both IIT Bombay and Monash University, as well as the industry, including Prof. Tony Patti, Prof. Victoria Haritos, Prof. Bart Follink, Prof. Yogendra Shastri and Dr. Ezhil Subbian.
Prof. Rangan Banerjee set the ball rolling–making introductions to the themes and the panelists-following which each panelist was asked to make opening remarks on their perspectives and opinions on various aspects of waste to wealth. The discussion was thrown open to the delegates in the audience and an hour was devoted to brainstorming about the progress, challenges and opportunities in various waste to wealth scenarios. Multiple illustrations and case studies were cited by the panelists and delegates to highlight the key aspects of the future of waste to wealth, such as state of the art technology, commercialization strategies, scale-up and deployment challenges, policy interventions required as well as the socio-economic and environmental impact assessment. The necessity for increased collaborations between the academia, industry, NGOs and the government for the success of waste-to-wealth projects was a common opinion amongst those present. Prof. Patrick Perlmutter made a proposal to set up a consortium on waste to wealth to drive projects and initiate new programs. In response, Prof. Rangan Banerjee shared his opinion on the necessity to identify one or two specific target areas and setting up key goals and action points for successful initialization of such a consortium. The panel discussion summed up the key takeaways from the symposium for all those present. The symposium ended with closing remarks by Prof. Rangan Banerjee and Prof. Murali Sastry.