The Academy laboratories have been designed to meet the international safety standards. They are equipped with fire extinguishers, safety showers, and eyewash sprinklers. The wet chemistry laboratory is equipped with solvent storage cabinet, acid and base storage unit. All the lab users are provided with a safety briefing and safe laboratory practices are always followed.
The Academy Has Four Main Laboratories: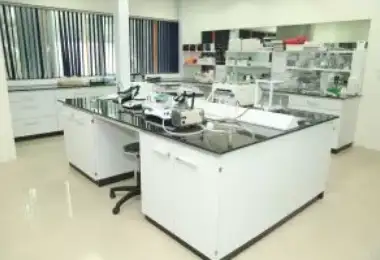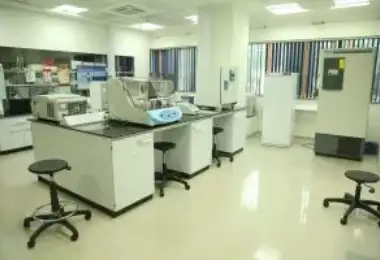 Below is the list of instruments available in the Bio lab:
Plant Growth Chamber
Shaker- Orbitek
Laminar Airflow (3 Nos)
Shaker
Bacteriological Incubator
Shaker Incubator (2 Nos)
Weighing Balance (analytical)
PCR Machine
Vortex Mixer
Dry bath
Digital Rocker
Microwave oven
Autoclave
Magnetic stirrer
Water Bath
Refrigerator
Multiscan G0
Image quant LAS 500
Megafuge GR Centrifuge
Electrophoresis Unit and accessories
Deep Freezer (-20 and -80)
Revolver
Hot Air Oven
Microscope Leica DM 2000 LED
Microfuge Pico 21
pH meter
Ultrasonicator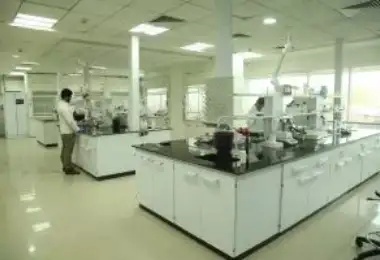 Here is a list of the instruments and equipment in the lab:
Hot Air Oven (ThermoFisher Make; 60 L capacity)
Weighing Balance (Mettler Toledo; Analytical; 4 decimal)
Buchi Rotavapor (up to 5L capacity)
Ice maker (citizen make), Refrigerator
DM water Unit (Thermo Fisher Make; 6 L per hour)
Hot Plates (Thermo Fisher; 4 X 4 and 7 X 7)
UV Chamber (254 nm, 355 nm, and visible light)
Solvent Storage Rack (Koettermann make; 90 min fireproof)
5 Fume hoods (Godrej Make) 3 phase line; Nitrogen, CA and water
pH meter (Thermo Fisher make)
Safety Shower, Eyewash Units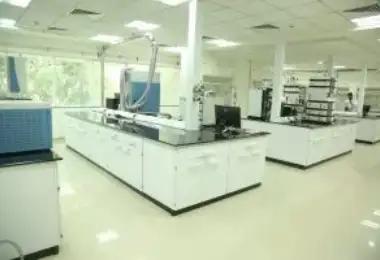 The instruments in the Materials Characterization lab are (Thermo Fisher Make):
UV-Vis Spectrophotometer
FT-IR
GC (FID)
GC-MS (single quad)
U-HPLC
Atomic Absorption Spectroscopy (AAS)
Tabletop XRD (Equinox)
CHNSO analyzer
iCAP-TQ (ICP-MS; triple quad)
Microwave Digester (MARS)
BET (Quantachrom make)
7 Fume Hoods
Gas lines with purification panel (10 different gases)
Safety Shower, Detectors for gas leaks (gas monitoring system), Eyewash unit.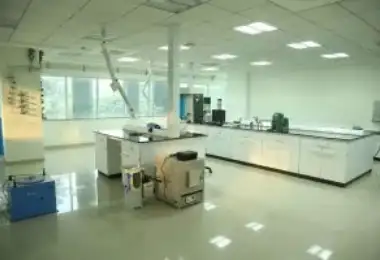 Below is the list of instruments in the Earth Science Lab:
BET surface area analyzer (Quantachrome)
Gas permeameter
Liquid Permeameter (2 nos)
Pulse decay permeameter
Fume hood
Mercury intrusion capillary porosimeter (Anton Parr)
Core saturator (2 nos)
Desiccator
Soxhlet apparatus
Point load index apparatus
Brazilian test apparatus
Dynamic column breakthrough setup
Gas chromatography system (ThermoFisher)
Liquid limit tester
Weighing balance
Demonstration models for CO2 capture and CO2 storage (2 nos)
Computers and workstations (8 nos)